Chapulines For Sale
Did you know that the red color of chapulines is not from the chiles? Similar to lobster, brown and green grasshoppers turn red when cooked. The chapulines for sale are cooked with traditional chile, lemon, garlic and salt.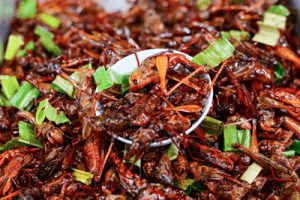 As far as edible insects go, chapulines and crickets are probably the most common insects consumed by people from North America. However, this isn't saying much since the experience probably took place while on a trip to Mexico or during a science class. It's unfortunate since chapulines are so tatsy and so good for you.
Hoppy & Healthy!
Similar to crickets, they are packed with protein, Omega 3, B12 and many other vitamins and minerals. The chitin, or exoskeleton, is a prebiotic which is food for probiotics. They're considered a superfood.
But, the best reason to add them to the menu is that they taste great. Here in North America, they are an exotic ingredient. Your guests will be talking and posting about their experience after trying them. Few people leave saying they did not like them. Most agree, they are fabulous.
Size: 1 Ounce (30 grams) Sample Bag
Ingredients: Grasshoppers, lemon, salt, garlic and chile
If you are a chef, educator or group leader, you can buy bulk chapulines here: Bulk Chapulines