ABOUT MOPANI BITES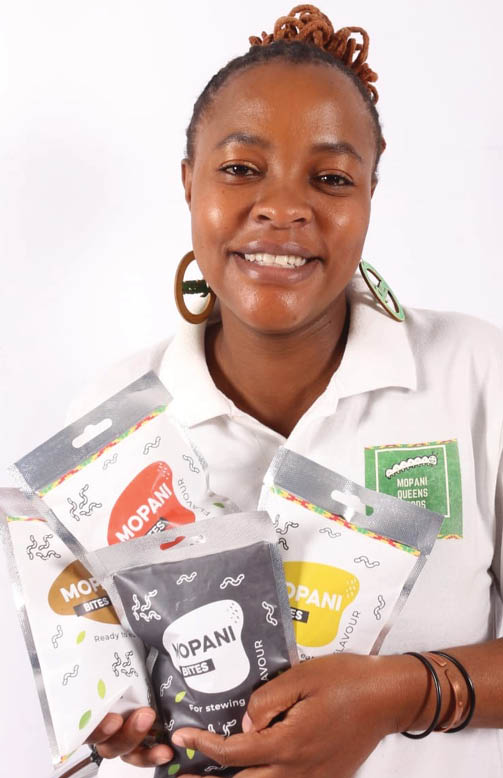 Entosense is proud to carry MOPANI QUEENS, a new product to the North American market.
Phuti Kabasa is a South African entrepreneur. She took traditional food and made it into a business.
Mopani worms are a common edible insect in areas of southern Africa. Countries such as South Africa, Mozambique, Zambia, Malawi, Zimbabwe, and Botswana.
Phuti realized that people enjoy snacking on this high-protein food. Preparation can be time-consuming. Phuti started her business "Mopani Queens" by offering three flavors of Mopani worms packaged in snack bags and plain salted Mopani worms for stewing.
Enjoy this adventurous food as a snack or an ingredient in your next meal. An exotic meal is one you'll never forget!
Common Name: Mopane Worm or Mopani Worm
Scientific Name: Gonimbrasia Belina
The mopane worm is actually a caterpillar. It's common throughout southern Africa. This finger food is popular in  Africa because it's a crispy snack with a unique taste.
Mopane worms are high in protein and iron. That's around 3x as much protein and 4x as much iron as beef. The Food and Agricultural Organization (FAO) says mopane worms are a good source of potassium, sodium, calcium, phosphorous, magnesium, zinc, manganese, copper, and B vitamins.
These mopane worms have been dried to a nice "chip-like" crunch.
Because this is a new food for North America, and as with most new products, our price and yours will decrease as demand increases. For bulk orders, contact us for current prices and quantities available.
The mopane worm gets its name from the mopane tree which is a primary food source. They also live in other trees such as mango trees.
The adult is an Emperor Moth (Gonimbrasia Belina).