Of Sales Made from Visitors You Send 
---
Earn an income by sending visitors to EdibleInsects.com
Your website, blog, newsletter and/or email – All good ways to earn an income by promoting Edible Insects.
A healthy, sustainable and environmentally friendly income!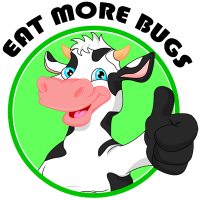 WITHIN A LIFETIME. In the next fifty years our planet's population will increase by 50% and meat production will need to double. This is not possible. Meat production is already a serious problem using up to 1/3 of the arable land and fresh water. Edible insects is one answer. They are healthy, sustainable, humane and environmentally friendly.
CREATE AN INCOME. Entosense is a for-profit company and if you can help promote entomophagy and our products, we'll share in the income created from your efforts with an 8% commission.
PRETTY EASY. Include simple links or go extravagant and write blog posts and articles about the benefits of edible insects. All sales generated from traffic you send to EdibleInsects.com earns 8% of the gross sales minus tax & shipping. Once you sell $500, your commission rate pops up to 10%.
SIGN UP TODAY TO HELP IN MAKING EDIBLE INSECTS PART OF THE DAILY DIET OF NORTH AMERICANS